Extending the Compass direction of travel arrow
The minimum route leg distance currently available at the maximum contour line zoom level using the Ordnance Survey Maps Compass is approximately 0.39 miles (63 metres). Increasing the route leg distance at this zoom level requires the extension of the direction of travel arrow and assists in obtaining a more accurate bearing as well as recording an accurate distance for the route leg.
There are two methods available for extending the Compass direction of travel arrow: manually and using a slider. Both options are provided in the left-hand menu and are illustrated below.
Direction of Travel Arrow Manual Resize
Drag the compass so that its centre sits on top of your starting point.
Select Resize Arrow Manually
from the menu and a green circle appears at the end of the red Direction of Travel arrow on the compass. Adjust the length of the arrow by dragging the green circle. When it is at your desired destination, click the
End Resizing
button. Click the
Draw Route
button that then appears at the top right of the map.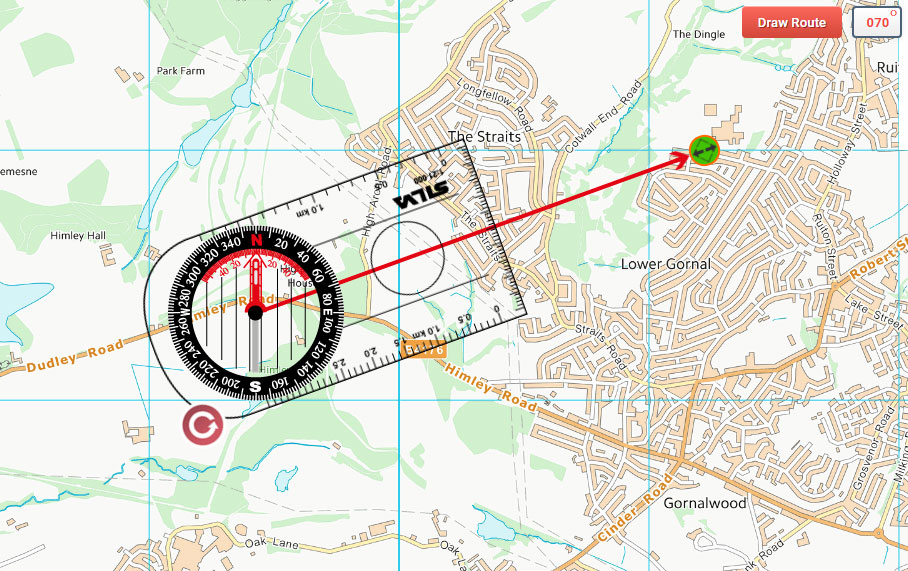 Manual extension of the Ordnance Survey Maps Compass direction of travel arrow