Ordnance Survey Maps Compass Menu
When the compass is opened, a Menu Button appears at the top left of the map that lets you:
Undo/redo steps
Clear everything and create new routes
Preview and print the map(s)
Preview and print the route information
Load/Save/Import a Route
Have a unique URL/ID emailed to you so that you can access/import it later
Maintain a free online 'My Routes' account.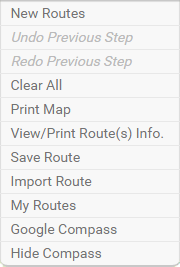 To open the menu, put your mouse over the 'Compass Menu' button:

Move your mouse out to close the menu.
The Menu button disappears when the
'Hide Compass'
button is selected. Click the
'Show Compass'
button to restore.